Mazda debuting all-new CX-3 at 2014 LA Auto Show
Leverkusen, 28/10/2014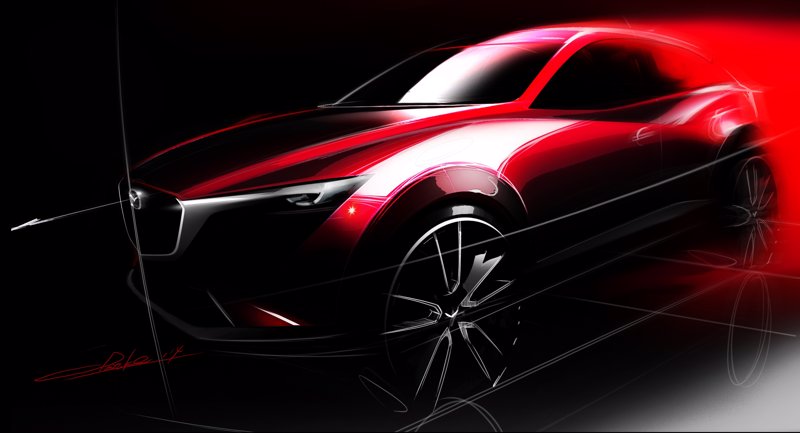 Compact crossover SUV with SKYACTIV technology & KODO design
All-new Mazda MX-5 roadster also on stage at Mazda's exhibit in Los Angeles
In a world premiere, Mazda will unveil its all-new compact crossover SUV – the Mazda CX 3 – at the Los Angeles Auto Show, which is open to the public from 21-30 November*.
The Mazda CX-3 is the latest model in Mazda's line-up of new-generation products featuring the full range of SKYACTIV technology and KODO – Soul of Motion designs. In pursuing a design of beauty and sophistication, the essence of KODO – the expression of life within a vehicle – has been evolved to produce a sharper form with an enhanced sense of speed.
The all-new Mazda MX-5 roadster will also make its North American motor show debut at the Los Angeles Auto Show. The engine line-up will be tailored to each market, with either a 1.5-litre or 2.0-litre SKYACTIV-G petrol engine tuned exclusively for the all-new Mazda MX-5 and mounted longitudinally for its rear-wheel drive configuration. North American-specification models will only be fitted with the SKYACTIV-G 2.0-litre gasoline engine.
Mazda at the 2014 Los Angeles Auto Show
Reference exhibits
All-new Mazda CX-3 (world premiere)
All-new Mazda MX-5
Vehicles scheduled for sale
Updated Mazda6 (world premiere)
Updated Mazda CX-5 (world premiere)
Models currently on sale
Mazda3, Mazda6, Mazda CX-5, Mazda5,
Mazda2, Mazda CX-9
Technology exhibits
All-new Mazda MX-5 SKYACTIV-Chassis
SKYACTIV-G 2.0 petrol engine
SKYACTIV-G 2.5 petrol engine
* Press days at the Los Angeles Auto Show are 18-20 November. Mazda will hold its press conference on Wednesday morning (19 November) at 10:30-10:55 local time.
- Ends -
Further press information is available from www.mazda-press.co.uk
Interactive Press Packs for all models are available from www.mazdamediapacks.co.uk
For further information please contact one of the following:
Graeme Fudge, PR Director / T: 01322 622 691 or via E-mail: gfudge@mazdaeur.com
Alison Terry, Senior Press Officer / T: 01322 622 713 or via E-mail: aterry@mazdaeur.com
Follow us on Twitter @mazdaukpr Ref: 141028HA